Poems —
& Recipes







Futurist Bachelor Dinner


formula by Aeropoet Marinetti

Futurist cooking sets out to avoid the usual pitfalls of eating alone:


The anti-human solitude that fatally drains a part of the stomach's vital forces.

the heavy silence of meditative though which taints the food and makes it leaden.

The lack of a living,human, fleshy presence, which is indispensable for keeping alive the palate of the man who is confined to the zone of animal flesh.

The inviteable speeding-up of the rhythm of the jaws as they take flaght from boredom.

In a dining room decorated with Aeropaintings and aerosculpture by the Futurists Tato, Benedetto, Dottori and Mino Rosso, on a table whose four legs are made of accordions, some food portraits are presented on jingleing plates bordered with bells:


'Blonde Food Portrait': a beautiful piece of sculpted roast veal with two long eyes of garlic in a dishevelment of chopped boiled and small green lettuces. Dangling earrings of little red radishes soaked in honey.
'Man-Friend Food Portrait': well-modelled cheeks of pastry - momstache and hair of chocolate - big eyes of milk and honey with pupils of licorice. A split pomegranate for the mouth. A nice necktie of tripe in broth.
'Beautiful Nude Food Portrait': in a small crestal bowl full of fresh milk, two boiled capon thighs, the whole scattered with violets.
'Food Portrait of the Enemies': seven cubes of Cremona nougat, each one with a little well of vinegar on top and a big bell hanging on one side.

Filippo Tommaso Marinetti,''Futurist Bachelor Dinner'' from The Futurist Cookbook, copyright © 2014 by Penguin Classics.


This Is Just To Say
by William Carlos Williams

I have eaten
the plums
that were in
the icebox

and which
you were probably
saving
for breakfast

Forgive me
they were delicious
so sweet
and so cold

William Carlos Williams,''This Is Just to Say'' from The Collected Poems: Volume I, 1909-1939, copyright ©1938 by New Directions Publishing Corp.






Vegan Chocolate Cake with Hazelnut Cream & Mint
by Andrea Sisó / November 2020

Ingredients

Cake
400 g Sugar (raw, granulated or brown are all fine)
500 mL Boiling hot water
125 mL Coconut oil, melted (or vegetable oil)
1 tbsp Vinegar
2 tsp Instant espresso powder
2 tsp Baking soda
1 tsp Salt
100 g Unsweetened cocoa powder
300 g All-purpose flour
100 mL Hazelnut (Gianduja) spread


Ganache frosting
100g Dairy-free milk chocolate buttons
60g Oat cream

Instructions

1
Preheat the oven to 180 C or 350 F. Generously butter 2 8-inch (20 cm) cake pans, then line the bottom with parchment paper and dust with flour. You can also use a bundt pan (but you'll need to increase the baking time to an hour or longer), or 9 inch (22/24 cm) cake pans.

2
Next, you'll need to mix all the cake ingredients together. I find it's actually easier to mix all the dry ingredients first and then add the wet ingredients.

3
When the batter is smooth, divide it between the two cake pans and bake for 20-25 min or until a toothpick inserted comes out clean.
Let the cakes cool completely before frosting.

4
Chop chocolate finely. Put into bowl.

5
Warm cream until hot but not boiling, add to chocolate. Let sit for five minutes to allow chocolate to melt.

6
Stir until chocolate is combined with cream. Allow to cool and thicken about 15-20 minutes.

7
Cut cake in half and add spread to the middle then sandwich back together.

8
Decorate as desired.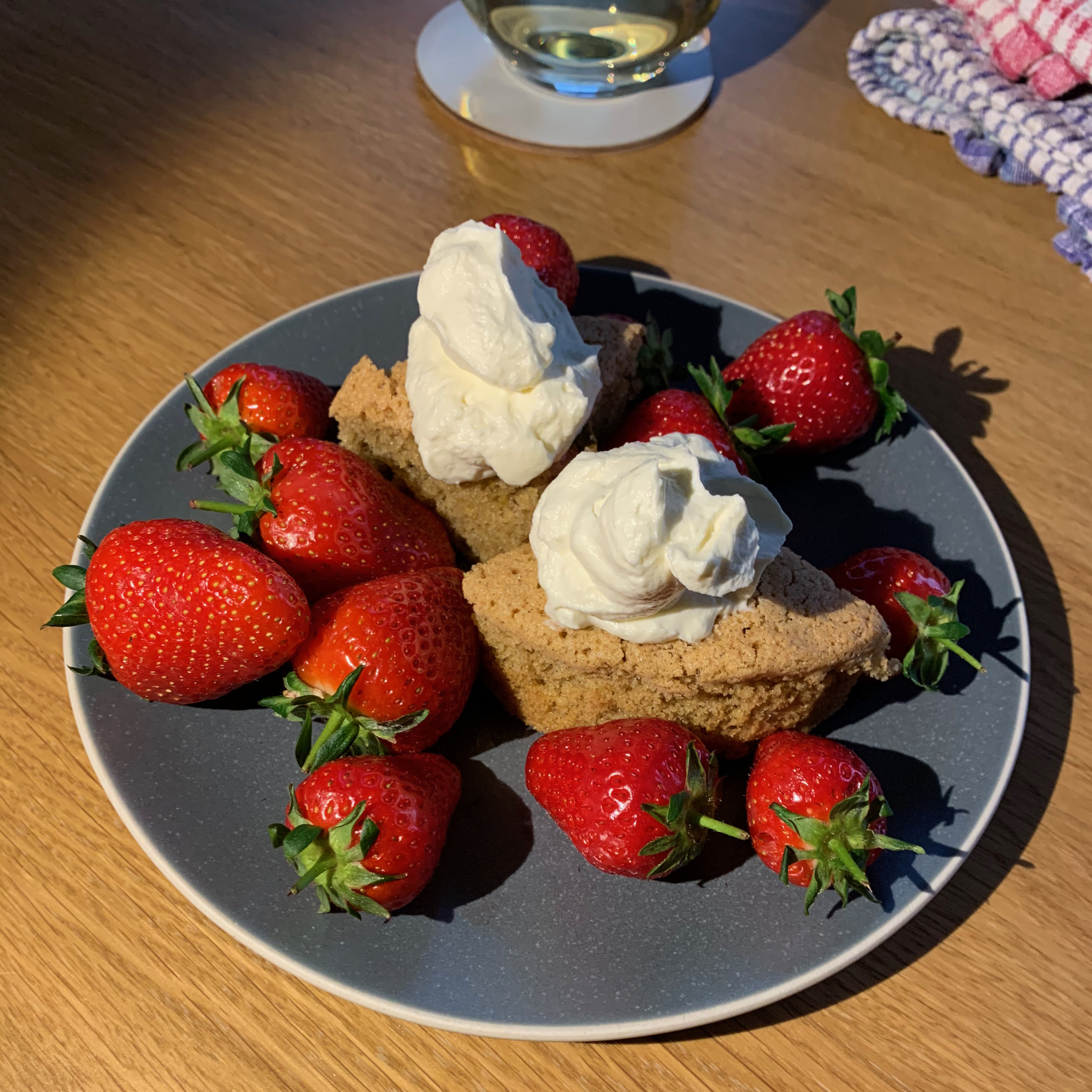 Tarta de Santiago with Fresh Cream and Strawberries
Recipe by Kaltur / March 2020

Ingredients

Cake
250g of caster sugar
5 egg whites
7 egg yolks
250g of blanched almonds
icing sugar, for dusting

Cream
500ml of whole milk
2 eggs, beaten
3ml of vanilla essence
125g of caster sugar




Instructions



1
Preheat an oven to 180°C/gas mark 4. Place the almonds on a baking tray and transfer to the oven, cooking for 5–8 minutes or until golden. Stir the almonds halfway through the cooking time to ensure they're evenly toasted. Remove from the oven and allow to cool.



2
Place the cooled almonds in a blender and blitz until finely ground, although be careful to not leave it for too long as the oils will begin to create a nut butter.


3
Place the egg whites in a large mixing bowl and, using an electric whisk, beat with a tablespoon of the sugar until stiff. Set aside.


4
In a separate bowl, whisk the egg yolks with the remaining sugar until pale and creamy. Fold in the blitzed almonds and stiff egg whites until combined.


5


Line a 22x30cm rectangular baking tray with greaseproof paper, then pour the cake mixture in. Bake for 45 minutes, or until a skewer inserted into the centre comes out clean.


6
Once cooked, turn the cake out onto a wire rack and leave to cool.


7

Place the cream, vanilla, and sugar into a separate bowl and use an electric whisk to whip the mixture into stiff peaks.



8
Cover and place in the fridge to cool.

9

To serve, slice the cake in half horizontally to create two large slices. Dust the cake with icing sugar (you can use a cross stencil if you have one, which is traditionally used to decorate a Tarta de Santiago), then serve with the vanilla cream.






Josh Raspberry and Blueberry chocolate tart
by Andrea Sisó / July 2020

Coming soon!





Lemon Pound Cake with Lemon Sugar Crust and Candied Lemon Peel
June 2020

Coming soon!



Night: A suite for Piano & Poet's Voice
by Federico García Lorca


Sketches

That road
got no people.
That road.

That weevil
got no home.
That weevil.

And this sheepbell
gone to sleep.
This sheepbell.



Prelude

The bullock
slowly
shuts his eyes.

Heat in the stable.
Prelude to
the night.



In a Corner of the Sky

The old
star
shuts her bleary eyes.

The new
star
wants to paint the night
blue.

(In the firtrees on the mountain:
fireflies.)



The Whole Works

The wind's hand
caresses the forehead of space
again &
again.
The stars half-close
their blue eyelids
again &
again.A Star

There is a tranquil star,
a star that has no eyelids.
—Where?
—A star ...
In sleepy water.
In the pond.



Swath

O St. James Road.
O Milky Way.
(O night of love for me
when yellow bird was painted
painted
painted
up in the lemon tree.)



One

That romantic star
(one for magnolia,
one for the roses).

That romantic star
just went crazy.

Tralalee,
tralala.

(Sing, little frog, in your shadowy
hut.)



Ursa Major

Bear mother
gives suck to the stars
astride her belly:

Grunt
grunt.

Run off, star babies:
tender little stars.



Memory

Our Lady Moon still hidden,
playing ring around a wheel.
She makes herself look silly.
Loony moon.



At the Poorhouse

And the poor stars
that have no light

—o sorrow,
sorrow,
o lamentation!—

end up stuck
in muddy blue.

O sorrow,
sorrow,
o lamentation!



Venus

Open sesame
by day.
Shut sesame
at night.



Below

Space & stars
reflected into sound.
Liana ghosts.
Harp labyrinths.



The Great Sadness
You can't look at yourself
in the ocean.
Your looks fall apart
like tendrils of light.
Night on earth.



A Newton Suite

Newton's Nose
Onto the nose of Newton
a large apple falls.
A meteor of truths.
Last fruit to dangle from
the tree of Science.

And big Newton scratches
his Saxon nostrils.
A white moon over
these barbaric strings of lace:
the beech trees.



In the Woods

The gnomes
astride their secrets
tear
their beards out.
They tie up Death
& make the Echoes
mislead men
with mirrors.
In a corner
lies the secret:
in the open,
dead.
His companions
mourn him.
A blue boy
with iron feet—
a glowing star
between his eyebrows.
His companions
mourn him.
And the green lake trembles.
In the wind.



Harmony

Waves
rhyme with sighs
& stars with
crickets.
Atremble in the cornea
the whole cold sky.
A dot, a synthesis,
infinity's.

But who joins waves
with sighs?
And stars
with crickets?
Just hope these geniuses
be missing something.
The proofs keep drifting by
among us.



The Philosopher's Last Walk

Newton
was taking a walk.
Death had followed him,
strumming his guitar.
Newton
was taking a walk.
The worms gnawed through
his apple.

The wind hummed in the trees,
the river beneath the branches.
(Wordsworth would have cried.)
The philosopher was striking
unimaginable poses,
was waiting for another apple.

He ran along the road.
He stretched out by the water.
He saw how his face would sink
in the moon's reflection.
Newton
wept.

And high up on a cedar
two old owls yammered.
Slowly in the night the wise man
went back home.
He dreamt enormous pyramids
of apples.



Replica

Adam ate an apple
from the Virgin Eve.
Newton was a second Adam—
Science's.
The first knew
Beauty.

The second a Pegasus
bowed down by chains.
And neither one was guilty.

Their two apples
pink
& fresh
but with a bitter
history.
The severed breasts of
innocence, poor child.



Question

Why was it the apple
& not
the orange
or the polyhedral
pomegranate?

Why this virgin fruit
to clue them in,
this smooth & gentle
pippin?

What admirable symbol
lies dormant at its core?
Adam, Paris, Newton
carry it inside their souls
& fondle it without a clue
to what it is.


Federico García Lorca, ""Suites"" from Collected Poems: 2001, Volume I copyright 1921 by Green Integer.