2. Ricochet
Ricochet #4 / 2019
Final Ricochet poster for their fourth event
Ricochet organises micro-festivals combining visual arts, live music, performances in different locations across the boroughs, promoting local businesses as well as driving social inclusion in East London.

The events are informal and the vibe relaxed to encourage people to talk and collaborate; one of the aims is to provide support and guidance to emerging artists. By inviting industry professionals, experienced artists or charities working in the creative industries they inform our audience on the reality of being a freelance worker. The ambition is to put art and creativity back as one of the driving forces of East London by raising the awareness of local residents to the inspiring artistic creation happening in their boroughs.
A.
001a / 2019
Preliminary collage development
Ricochet approached me through a friend and asked if I would design a poster for one of their events. The theme of the night was mental health. I created a cluttered collage as a metaphor for the juggling that happens when one works in a creative industry.
001b / 2019
Preliminary collage development
The collages above and the previous one were the initial stages. I developed the collages as artworks before adding the text informing the viewer of the details of the event. During the project the team at ricochet loved the idea of it being linked to the creative process, I came up with the idea of the final being a photograph of the collage as if it was on a desk being finished. A concept that breaks the fourth wall and harks back to John Bergers seminal essay Ways of Seeing.
B.

002a/ 2019
Stage 2 collage development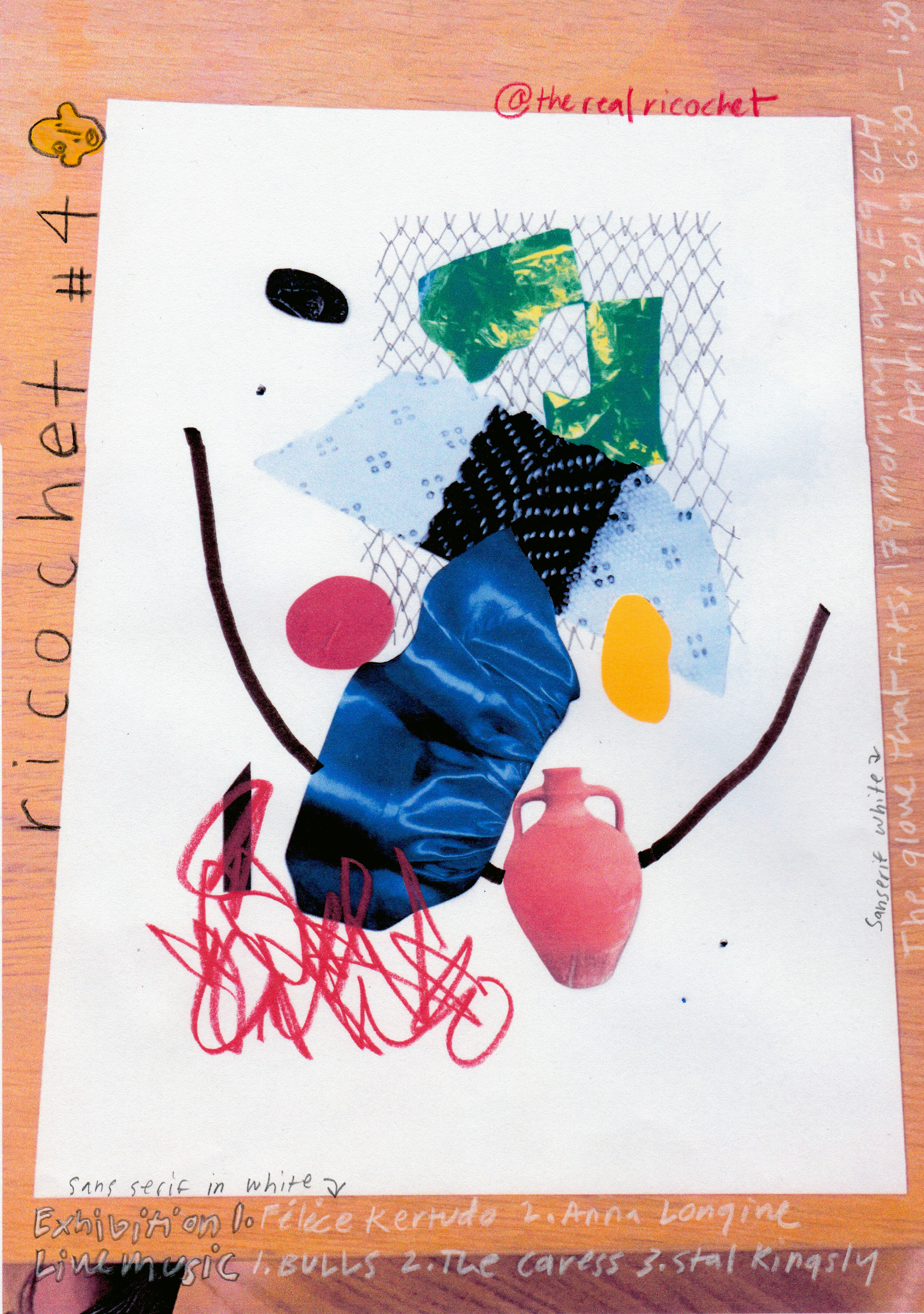 002b/ 2019
These are the hand drawn mock ups for the placement and colors for the poster.
A habit from when I studied fashion is sketching on paper first. It was decided that the text around the outsides should be white for more visability, while the title changed to yellow in the final design.

Ricochet wanted the event to be represented as a casual yet chic. The decision to change the name from uppercase to lowercase. Instead of the text being placed on top of the image, which flatens the picture, the text would follow the outline of the collage image. Similar to the title in the sketch to the right. The final image for the poster was created using a different collage which has a darker "edge" around the sides to suit the white font around the edge better.
C.

003/ 2019
Final poster design
The final design incorporates a hand, breaking the fourth wall. The final metaphor for the poster is vision of the artist creating. You can see elements of the room if one looks past the typography around the collage. The collage itself is a highly abstracted figure of a person. The mark making symbolizing the juggling inner self, organized but messy. Balancing many things on an unconventional platform i.e. the individual.