Fugitive Voices
2020 - 2022
Fugitivity; Social media design; Salon lecture series.
Fugitive Voices
is a series of conversations with guest artists and theorists, curated by Eleni Ikoniadou at the Royal College of Art.
Attempting to locate practices that seek to disrupt dominant narratives, official archives and existing models of knowledge production; driven by a collective commitment to dismantling and unlearning the histories of our discipline. As we're spread across the world, due to the pandemic, occupying different continents and spacetimes, these conversations take place online.
End of first lecture series poster designed by myself as a collage formed of the previous artwork created during the year.
I collaborated with fellow students as part of the design team from 2020-2022.

We created visuals which were used to publicize the events as well as conceptualized methods of interacting with the critical material to provide a framework of knowledge that countinued beyond the lectures.

A snapshot of Fugitive Voices social media account. You can find it
here.

Mayday Rooms

Rosemary Grennan

MayDay Rooms is an archive and educational space in London which seeks to connect histories and documents of radicalism and resistance to contemporary struggle.
Rosemary Grennan is part of the collective that runs MayDay Rooms. during this session we discussed the role of the Mayday Rooms as a live archival space.
The visuals for the session were created using
open source material provided by Mayday Rooms
documenting community forming activities across London.
01:
02:
Abolish the Family
Sophie Lewis

Sophie Lewis is a writer based in Philadelphia, the author of Full Surrogacy Now: Feminism Against Family, a visiting scholar at Penn, and a teacher of courses on queer and trans feminism at the Brooklyn Institute for Social Research. A member of the Out of the Woods collective, she writes and speaks widely on family abolition, ecology, and utopia.

For the images depicting Sophie Lewis' session, I used archival material from maternity wards during the baby boom era in the United States. This period is a crucial moment defined in feminist literature as the beginning of familiar structures now considered the norm, something to which Lewis lends her critical eye to question.
01:
02:
Memory, Africa, and Oral Feminist Tradition
Ifeanyi Awachie

Ifeanyi Awachie spoke in a session entitled 'Archiving the African Feminist Festival through Oral Communication and Social Media.'

Ifeanyi Awachie is an Atlanta-raised Igbo writer and curator based between New York and London. Ifeanyi is Founder, Director, and Chief Curator of AFRICA SALON UK, a global contemporary African arts festival. Ifeanyi's curatorial and creative work is shaped by her interest in representing interdisciplinary, contemporary, and celebratory images of Africa and the diaspora; pleasure politics; Black quiet and interiority; notions of luxury as a diasporic space.

The images selected for her are represintations of civil rights female speakers alongside busts of influencial women leaders from antiquity. Weaving in an homage to a legacy Ifeanyi has taken on board.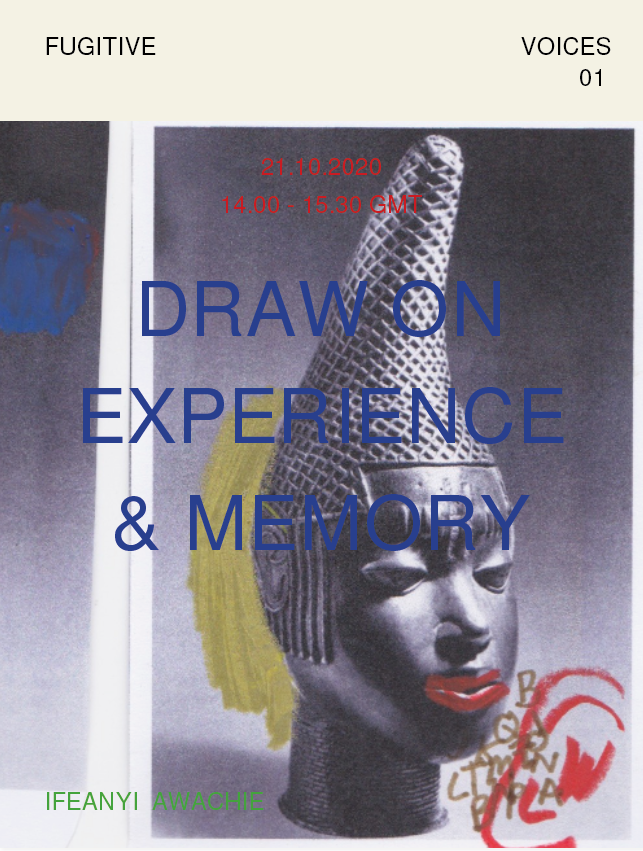 02: