Gaia's Garden
(via The Pattern)

2020-2021

Community Garden; Social community based practice, sustainability.

















A community-built public garden opened in the City of London during the summer of 2020, offering free workshops and events to Londoners looking to learn more about sustainability.
Home page for website for Gaia's Garden.
As well as a place to socialise and relax, visitors to the garden engaged in learning about sustainability through workshops, installations and performances. Using art, fashion, and music as a way to explore the relationship between people and the natural world.

Bio section for Gaia's Garden with introductions to the team.
My role at Gaia's Garden was as a Creative Lead in collaboration with Adapt.

I co-curated an exhibition featuring ten artists representing an exploration of human nature through environment, race and sexuality. The artists communicate their perspectives of everyday life and identity with the relationship to nature and their surroundings.

Featured Artists include Barbara Majek, Douglas Ponsonby, Joy Julius, Justin C. Villamor Rivera, Kimiya Keschtidar, Miaozi Li, Ramzia Jawara, Ruhkia Johnston and Somunachima.

Fellow curators were Ramzia Jawara and Tina Wetshi.
BODIES IN NATURE

For Bodies in Nature I also designed the social media outputs.

In line with the visual identity of the project it features bold imagery provided by the artists featuring their work.

Post 01:
Post 02: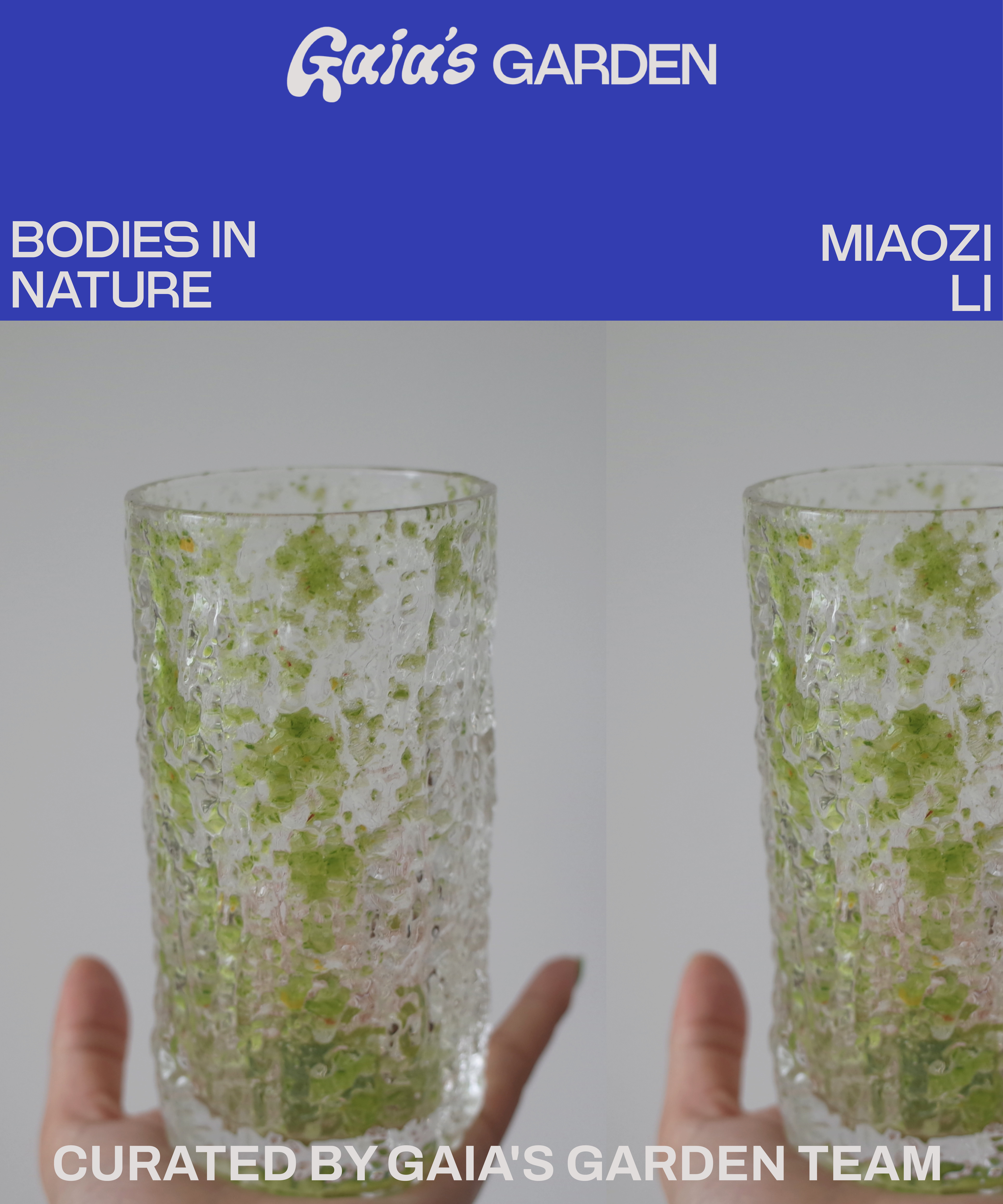 Social Media post design introducing the space to the public.
Other social media work I did for the project includes creating posts for any of the events, workshops, and talks.

They feature a central image representing the gathering provided by the group using the space. As well as a symbol stamped on the front to identify what kind of event.
Social media post for workshop in collaboration with Gramounce.
HOW THE GARDEN CAME TO BE

The garden was conceptualised by myself, Ramzia Jawara, Ananya Panawar, El Grace, and Tina Wetshi from across fashion, graphic design, movement, music, and video. We took part in Play Nice's cultural incubator programme The Pattern. Mentored by Noga-Levy Rapoport, an ambassador for the UK Student Climate Network, the group's vision was to create a space to present sustainability through a more inclusive and feminist lens.

Gaia's Garden forms part of the City Lord Mayor's Culture and Commerce Taskforce's Enhancing the City initiative, which seeks to fill repurposed commercial spaces across the City with curated creative activity in order to animate the area and drive footfall.

Over 200 young people from across the capital helped with the gardening and building as well as curating a live events programme that includes contributions from online education platform and community Climate in Colour, climate activists UK Student Climate Network UKSCN, Sound Advice (a London-based platform dedicated to tackling spatial inequality), and plenty more.